The Application of Portable Desktop Inkjet Printer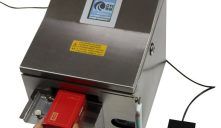 Abstract: Inkjet coding technology is widely used in the pharmaceutical industry, which has wide range of packaging, such as cartons, aluminum foil packaging, glass bottles, capsules, films, etc. No matter what kind of material and packages, CYCJET can provide the product security, market management and products tracking printing solutions.
The pharmaceutical industry has fully implemented the GMP certification nowadays, which requests all the pharmaceutical equipments strictly to meet GMP standard, including the inkjet coding printer for the pharmaceuticals. CYCJET ALT390 desktop inkjet printer, which equips IP55 protection grade stainless steel structure cover, meets the diversiform packages in all sizes and shapes. CYCJET ALT390 industrial inkjet printing machine apply non-contact inkjet printing technology, which makes the printings outstanding whether on the tiny tablets, capsules, aluminum tin or stainless steel surgical instruments, whether on the soft plastic or carton packages.
Then, CYCJET Industrial inkjet printer adopts color touch screen, which makes the text inputting more easy and clear, WYSIWYW. Also you can connect a mouse or keyboard with the inkjet printer, with which you also can control the printer for inputting printing information and adjust the param. Total Stainless steel body makes the printer look more durable and beautiful, and is more suitable industrial workshop. The industrial inkjet printer includes the XAAR print head, Samsung Micro-chip, which makes the printer more stable. It adopts Micro Piezo Technology, the software is quite easy and stable. The ALT390 Inkjet Printing Machine can not only can print automatic date and time, logo, serial number, random code, barcode, qr code, it also supports multi-lines printing, can print variable items, like variable barcode, variable qrcode, datamatrix code, etc. Based on its high integration and stability, the CYCJET Industrial inkjet printer can meet 24hours continuous working.
About Shanghai Yuchang Industrial CO.,LTD-CYCJET Brand
Shanghai Yu Chang Industrial CO., LTD., the manufacturer who was specialized in handheld inkjet printer and the portable marking solutions, through 10 years of professional development, has produced ALT360 hand jet printer, ALT382 large character handheld code printer , ALT390 Desktop Inkjet printer, ALT200 portable industrial inkjet printer, and LF series portable laser marking machine. Relying on the Yu Chang company perfect sales and after-sales service system, CYCJET brand series portable printing equipment have been best-sold to Europe and the United States, southeast Asia, the Middle East and other countries and regions.
Contact Person: David Guo
Telephone: 86-21-59970419, Ext.8008
Email: sales@cycjet.com
Website: http://www.cycjet.com/
Wire & Cable Fly Marking Machine Application
A brief of Handheld Inkjet Printer
Wire & Cable Fly Marking Machine Application
A brief of Handheld Inkjet Printer