CYCJET NEW ARRIVAL -------"C" Series Large Format Inkjet Printing Machine
Under the increasingly competitive trade trend in the global market, brand promotion, brand protection, personalized customization and products tracing have been deeply rooted in the hearts of people, and logo and special signs printing have become more and more used on the products and packages. As small as a pen, a teacup, as well as our ubiquitous packing boxes, architectural profiles, etc., all these materials will show the company logo, promotional slogans, to be eye-catching, to be unique. Then the logos and warning signs that people can see everywhere need to be coded equipment to achieve. CYCJET team responded to this market demand rapidly and developed a new
Large Character Inkjet Printers
—CYCJET "C" series large format inkjet printer. The new arrival can meet the brand promotion demands: The standard version can print logo/font/barcode/QR code in 71 mm size. And also can customize larger size printing: Multi-printheads working together to get large and eye-catching logos and signs, like fragile, keep dry, handle with care, etc. Also, CYCJET developed two different versions to meet different working mode: manual version and automatic version.

What's more, the special ink that "C" series carton box inkjet printer uses makes the printer much more stable and maintenance freely. The company no need to worry about the fussy and difficult maintenance job to the logo inkjet printer. The other important function of CYCJET "C" series large character inkjet printing system is products tracing. It reads data from system and generate qr code or barcode, then print on the products one by one. So, CYCJET "C" series portable inkjet printer is not only a machine, it is a who printing and tracing system.

Nowadays, CYCJET "C" series large format inkjet printing system, the automation inline type,  has successfully used in a steel sheets factory in Changzhou, China, who supply steel sheets material to the customer in America, and they ask to print the logo in 10 cm on the sheets, in order to advertise their brand. And the other factory who ask the large
logo inkjet printer
for the fire resistance sheet, they want to print their logo, the certificate sign, specification and the installation instruction on the sheet. The customer wants the logo in at least 20 cm high, which requires 4 printheads to work together to make it. This project is still in processing at this moment as the customer needs CYCJET to provide the whole production line of this work. About the manual handheld inkjet printer, which is popularly used in shipping mark printing on the carton box and wooden case, like elevator, machinery, logistics, etc. CYCJET handheld inkjet printer incorporates a more user-friendly concept in a compact and exquisite appearance, and it is highly adaptable and can be marked in different environments and materials. Intelligent and simple, CYCJET handheld inkjet printers change the traditional complex process, simplify and maintain the brand image of the enterprise, and bring faster identification solutions for the elevator industry.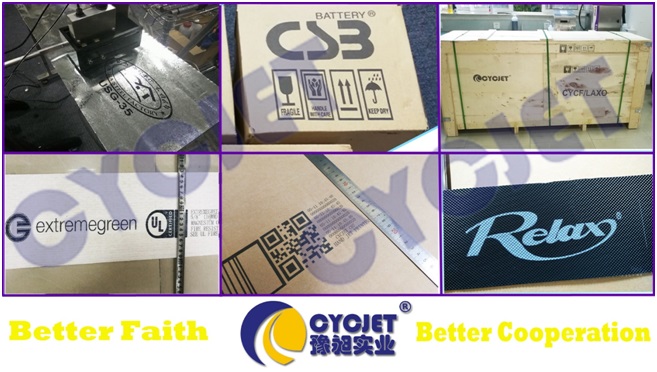 CYCJET is a brand name of  Yuchang Industrial Company Limited. As a manufacturer, CYCJET have more than ten years of experience as a wholesaler and retailer of different types of handheld inkjet printing solution, Laser printing solution, portable marking solution in Shanghai China.