High-Speed UV Inkjet Printer to Help Product Anti-Counterfeiting Traceability
With the wide application of big data, Internet of Things, and blockchain technology, more and more attention has been paid to the traceability of products. The anti-counterfeiting traceability of QR codes has penetrated into life, and many products have certain difficulties in the process of assigning QR codes, especially the two-dimensional code assignment of variable data is even more difficult, which promotes the research and innovation of two-dimensional code inkjet printer technology, and high-speed UV inkjet equipment came into being.
High-speed UV coding combines the advantages of inkjet printing technology and UV curing technology. It not only has the convenience of inkjet technology, but also has the advantages of strong adhesion and fast curing effect. It can print high-definition and high-recognition rate QR codeson products.
UV inkjet printer solves a series of problems that ordinary inkjet printers are easy to lose ink after encountering strong acids and alkalis, breaks through the bottleneck of printing technology, and is not limited by materials. It can realize inkjet marking on various materials, realize the effect of one-time printing without plate making, effectively help enterprises establish anti-counterfeiting traceability system, realize product traceability, quality can be traced, and escort product safety.
CYCJET high-speed UV inkjet equipment has innovated and iterated on traditional UV inkjet equipment to optimize the high-speed UV inkjet scene solution. The overall system is composed of nozzle control unit, UV curing control system, visual inspection system, ink path control system, inkjet coding software system, supporting UV ink and related software systems. It can be compatible with more than 95% of printing machines or downstream equipment, and meets industrial grade requirements.
It is perfectly compatible to install UV spray on various types of equipment such as linkage line, watermark machine, pre-printing machine, cardboard line, bag making machine, rewinder, box gluer, line touch machine, corrugated paper offline platform, and color box drug supervision offline platform code device.The highest printing speed can reach 300 m/min, which can realize high-precision and high-quality inkjet printing.
The CYCJET nozzle control system adopts imported nozzles, based on mature piezoelectric inkjet technology, with a resolution of up to 600DPI, a built-in automatic constant temperature system, which can adapt to temperature differences, and can provide continuous, high-quality, high-speed inkjet printing.
The printing height can be flexibly expanded, and can be flexibly combined according to the needs. Combined with the visual inspection system independently developed by CYCJET, while ensuring high-speed operation, it can detect product printing defects, ink dot size, barcode or QR code in real time, and automatically analyze data,which provide customers with high-quality inkjet coding scene solutions.

CYCJET high-speed UV coding equipment can print various variable data, including barcodes, two-dimensional codes, electronic supervision codes, traceability codes, anti-counterfeiting codes, date and time, shift group numbers, graphics, forms, etc., widely used in food and medicine , daily chemical, label printing, packaging printing, medical, hardware and other industries, to solve anti-counterfeiting and anti-smuggling problems for customers, so that consumers can understand product information more comprehensively.
CYCJET high-speed UV inkjet printing effect is three-dimensional, friction-resistant, suitable for a wide range of materials, high definition, fast speed, strong adhesion, and will not damage the surface of the printed object.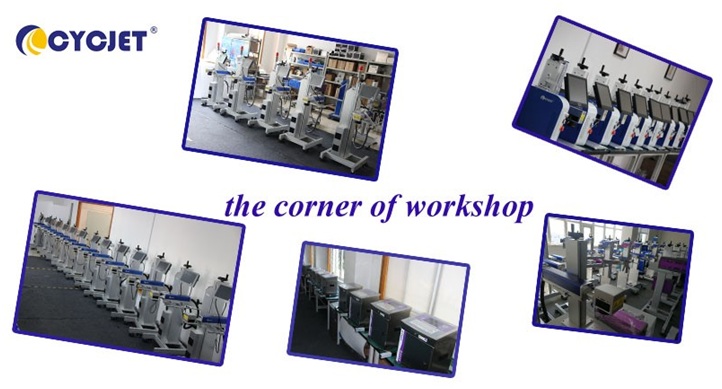 CYCJET is the brand name of Yuchang Industrial Company Limited. As a manufacturer, CYCJET have more than 16 years of experience for R& D different types of handheld inkjet printing solution, Laser printing solution, and portable marking solution, High Resolution Printing solution in Shanghai China.
Contact Person: David Guo
Telephone: +86-21-59970419 ext 8008
MOB:+86-139 1763 1707
Email: sales@cycjet.com
Web: https://cycjet.com/