A brief of Handheld Inkjet Printer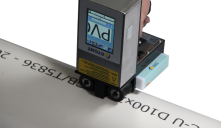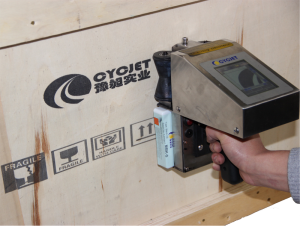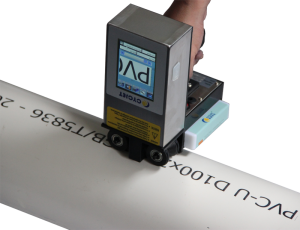 Abstract: Nowadays, the production equipment become more and more humanization. For example, the handheld inkjet printer, which is a small, multi functional, and more and more widely used in many different industries, like irregular parts, large and big objects, variable printing information, site operation and variable printing position, etc.
Handheld Inkjet Printer can print on any orientation, upwards, downwards, side-wards. Especially its print head adopts anti-blocking design and micro piezo technology. There are at last 128 piezo-electric crystal controlling the nozzles of the print head. The electric signal passing the CPU and driving system reaches every piezo-electric crystal, which will trans shape. Then the ink dot will be out from the nozzles reach the surface of products, and it will shows words, number, logo, etc.
Handheld Inkjet Printer has a totally sealed ink system. You can renew a new ink cartridge when printing, no need to stop working or turn off the hand jet printer. It is quite easy and fast and environmental friendly. What's more, no any solvent is needed for the handheld inkjet printer.
Handheld Inkjet Printer of CYCJET can print automatic date and time, serial No., bar code, qr code, logo, etc. And has many different fonts, as well as can customized by the client's requirement. The hand jet printing system of CYCJET has been quite stable after more than ten years development, which can connect with the Product anti-forgery system to become an automatic portable marking system. The print head system is well protected, the standard industrial design and good industrial protection grade, make the hand held printer suitable for many kings of different working environment, like full of dusty, humid workshop, high temperature, etc.
The handheld inkjet printer adopts color touch screen, and the operator can input the printing information directly through the color touch screen, no need to connect with the PC or other device. What you see is what you get, just like a telephone. Also there needn't be any special train to the operator of the handheld inkjet printer. The enterprise can save using cost as well.
In one word, if you want a small, and multi-functions inkjet printer, the handheld inkjet printer will be your best choice. CYCJET has been in handheld inkjet printer and portable marking solutions for more than 10 years, it will be highly appreciated if getting any inquiries.
CYCJET is the brand name of Yuchang Industrial Company Limited, a Shanghai based manufacturer, wholesaler and retailer of different types of portable and industry-grade printers.
Contact Person: Ms. Lucy Liu
Telephone: +86-21-59970419 ext 8002
Email: lucyliu@cycjet.com
Website: http://www.cycjetinkjet.com/
Wire & Cable Fly Marking Machine Application
A brief of Handheld Inkjet Printer
Wire & Cable Fly Marking Machine Application
A brief of Handheld Inkjet Printer