Yuchang UV Inkjet Printer Scale Marking Application Case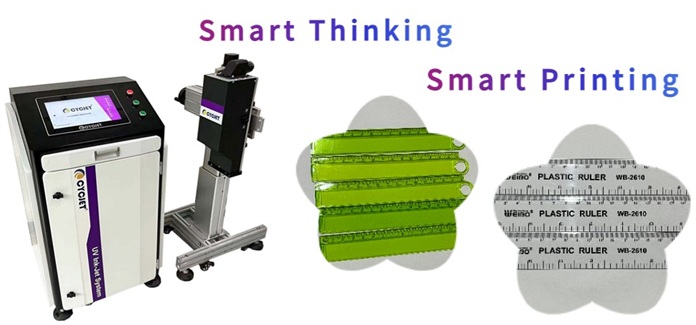 Scale is a common tool, commonly used in stationery, industrial measurement, the material of the scale is plastic, metal, ceramics and so on. Do you know how the marks on the scale are marked?
Most people probably think of screen printing. The advantage of screen printing is low cost, but this printing method has many disadvantages. For example, the process is complicated, the efficiency is low, the ink smells strong, and the printing effect is uneven. If variable content printing is to be done, the manufacturer has to make a large number of templates, which will greatly increase the cost of templates.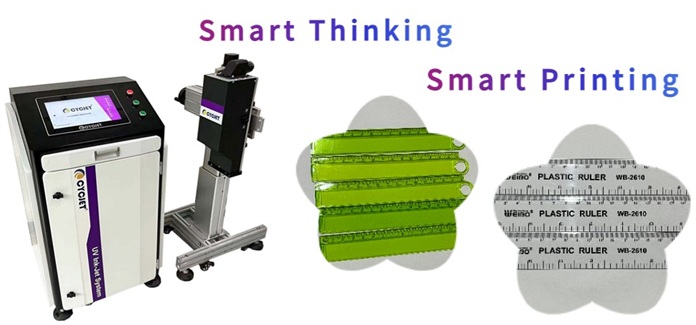 It is for these reasons that many manufacturers are looking for alternatives to screen printing. Yuchang Company has in-depth exchanges with scale manufacturers, and has developed a special inkjet coding machine for scale manufacturers. The machine can be automated from feeding, printing, and receiving, which greatly improves work efficiency.The printing effect is clear and beautiful, you can refer to the printing effect picture and video. Yuchang scale inkjet printing machine is a software-controlled nozzle printing equipment, which is composed of a control board, a circuit module, an ink circuit module, a photoelectric module, and a display module. The content to be printed is edited on the inkjet printer, and the inkjet printer is turned on to start printing, and the pattern to be printed is printed on the product, what you see is what you get.
Yuchang's scale UV inkjet printer is small and light, and can be easily integrated into the product production line, and can be automatically printed online with the product line. The content that can be printed includes Chinese and English characters, serial numbers, patterns, barcodes, two-dimensional codes, etc. It can also be connected to the customer's information management system, and the content in the information management system can be printed in real time.
Yuchang company has been focusing on the automatic coding industry for 15 years. It specializes in R&D and production of various inkjet printer equipment. The quality of the equipment is excellent. The products are not only sold all over the country, but also exported to more than 100 countries and regions around the world. Welcome friends from all over the country to visit Yuchang Industrial Co., Ltd.
CYCJET is the brand name of Yuchang Industrial Company Limited. As a manufacturer, CYCJET have more than 19 years of experience for R& D different types of handheld inkjet printing solution, Laser printing solution, and portable marking solution, High Resolution Printing solution in Shanghai China.
Contact Person: David Guo
Telephone: +86-21-59970419 ext 8008
MOB:+86-139 1763 1707
Email: sales@cycjet.com
Web: https://cycjet.com/