Small Character Inkjet Printer successful application in solar cell panel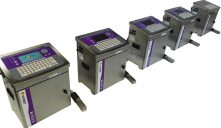 Abstract: At present , CYCJET successful cooperated with one of South-Asia largest solar cell panel manufacturer, B3020 Small Character Inkjet Printer Open a new chapter of solar cells industry application..
Given the characteristics of the solar panels and the complexity of the production process, the need to test pH, and require high temperatures, UV and other testing, it is not possible in the production line in batch job, after the employees have been required to complete a test, then use manual methods for marking code according to label production, batch, shift, yields. This method of operation has seriously affected the production efficiency and high error rate. After contact with the production manager, combined with the customer's production process and production needs, and ultimately provide customers CYCJET3020 small character inkjet printer with conveyor storage device, greatly improving customer efficiency and reduce the labor costs of the customer, to close to praise the company's leadership and staff.
CYCJET B3020 Small Character Inkjet Printer performance:
1-5 line printing, offset function dot by dot, to achieve any editing, better meet customer editting requirement
5×5 dot matrix printing , speed up to 345 m / min.
Built-in over six thousand Chinese characters, Pinyin input directly
Automatic counting and counting nesting
printing parameters and content integrated storage, meet variety products convenient printing any time, reducing time wasted on editorial & adjustments, great improve work efficiency.
Graphic can be edit by computer directly; Message, graphic, fonts can import or export via USB
Mass storage capacity, printing long message, a huge amount of information storage, Infinite extended memory via USB.
Super-flexible custom font capabilities, which can be customize special printing fonts & printing mode based on customers' requirements, improve security Anti-counterfeiting, Anti-regional dumping feature.
Bar code (128 yards), QR code printing, extensions function of computer on-line printing
CYCJET is the a brand name of Yuchang Industrial Company Limited. As a manufacturer, CYCJET have more than ten years experience for wholesaler and retailer of different types of handheld inkjet printing solution, Laser printing solution, portable marking solution in Shanghai China.
Contact Person: David Guo
Telephone: +86-21-59970419 ext 8008
MOB:+86-139 1763 1707
Email: sales@cycjet.com
Website: http://www.cycjet.com/
Wire & Cable Fly Marking Machine Application
A brief of Handheld Inkjet Printer
Wire & Cable Fly Marking Machine Application
A brief of Handheld Inkjet Printer