High Performance and Convenient to Hold, CYCJET Handheld Inkjet Printer Makes your Production More Efficient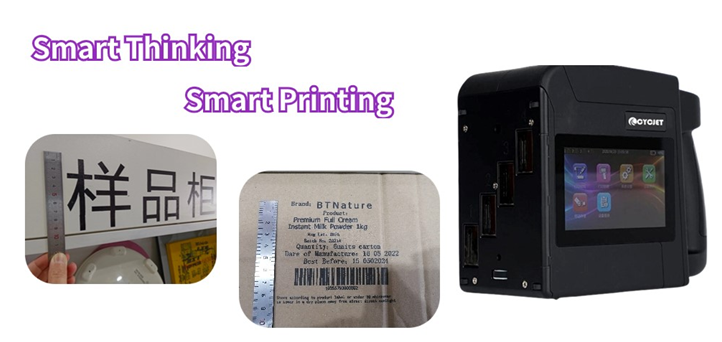 The Handheld Inkjet Printer is a professional inkjet printer that uses high-tech inkjet technology and can perform high-definition inkjet printing on various surfaces, such as plastic, paper, glass, metal, etc. It has the advantages of precision, efficiency, portability, etc., and is an indispensable piece of equipment on modern industrial production lines.
Using advanced inkjet technology, it is capable of high-resolution inkjet printing and the printing effect is very clear. More importantly, its print head adopts non-clogging technology, and the inkjet process is very stable, ensuring the operation of the production line. It also adopts a portable design, which is very lightweight and easy to operate, and can be used for coding anytime and anywhere. Its appearance design is also very beautiful. The handle adopts ergonomic design, which has a good grip and is not easy to fatigue, making the operation easier and more comfortable.
Handjet printers have a very wide range of applicability. It can be used in various production fields such as food, medicine, cosmetics, electronics, automobiles, daily necessities, etc. to meet the coding needs of different industries. It can carry out various inkjet printing modes such as text, numbers, images, barcodes, and QR codes to meet different production needs.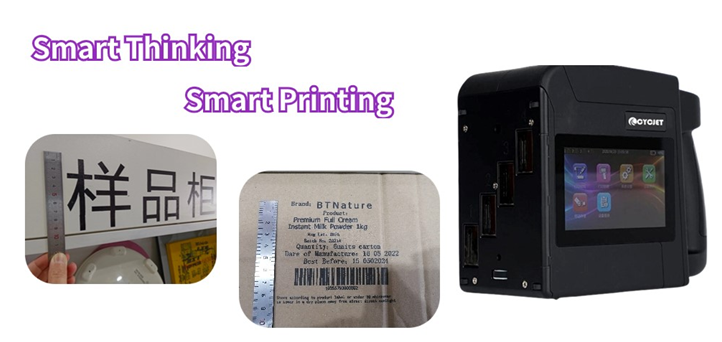 Handheld inkjet printers offer a variety of advantages that make them a popular choice across a variety of industries and applications. The main advantages are:
1.Portability: The handheld inkjet printer is compact and lightweight, allowing users to easily carry it and use it in different locations or on the go. Highly versatile, suitable for use in a variety of environments such as warehouses, construction sites, retail stores, etc.
2. Flexibility: Smart printers can mark and code on different surfaces and materials. They can print on a variety of substrates, including paper, cardboard, plastic, metal, glass, textiles, and more. This versatility makes handheld inkjet printers suitable for marking products, packaging, labels and other surfaces.
3. Non-contact printing: Handheld inkjet printers use non-contact printing technology, which means they do not physically contact the surface they are marking. At the same time, non-contact printing also reduces the risk of contamination or damage to the printer itself.
4. Cost-effectiveness: Handle inkjet printers are generally less expensive than larger fixed inkjet printers. They provide a cost-effective solution for businesses with lower printing volumes or those that require flexibility and mobility in their coding operations. They eliminate the need for expensive pre-printed labels or other marking methods, reducing overall coding costs.
5. Maintenance and Ink Efficiency: Handheld inkjet printers generally require low maintenance and are designed to be easy to clean and maintain. Additionally, they are often designed to minimize ink consumption, making them cost-effective in terms of ink usage.
In short, CYCJET, this high-performance high-resolution handjet printer, is a high-performance, high-efficiency, and highly adaptable inkjet printer. It can not only improve production efficiency and production quality, but also save costs and human resources for enterprises.
CYCJET is the brand name of Yuchang Industrial Company Limited. As a manufacturer, CYCJET have more than 19 years of experience for R& D different types of handheld inkjet printing solution, Laser printing solution, and portable marking solution, High Resolution Printing solution in Shanghai China.
Contact Person: David Guo
Telephone: +86-21-59970419 ext 8008
MOB:+86-139 1763 1707
Email: sales@cycjet.com
Web: https://cycjet.com/