CYCJET C700 High Resolution Inkjet Printing System Make it Much Easier to Print on Carton Packages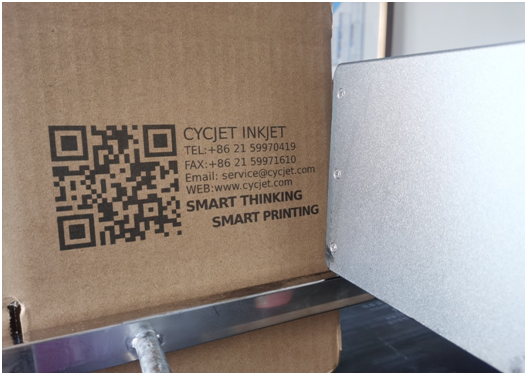 Printing quality is excellent Class A one-dimensional and two-dimensional barcodes (including GS1-128, GTIN-14)*, graphics, product batch number information and traceability serialized data
Cost-effective
Reduce inventory of pre-printed boxes and labels and eliminate waste; adjustable label resolution to achieve ideal label quality with lower ink usage
Coding accuracy
Can be integrated with coding automation software, barcode scanner and vision control system
Compliance with Industry 4.0 standards
Equipped with a series of connection options including standard interfaces such as Ethernet/RS232; automation solutions integrated into the factory's MES and ERP systems; CYCJET intelligent platform that can monitor the performance of inkjet printers around the clock
Excellent usability
The intuitive CYCJET touch screen user interface is easy to operate; large-volume ink supply improves uptime; no production line shutdown is required when refilling ink; no regular maintenance, no factory air supply or filter replacement.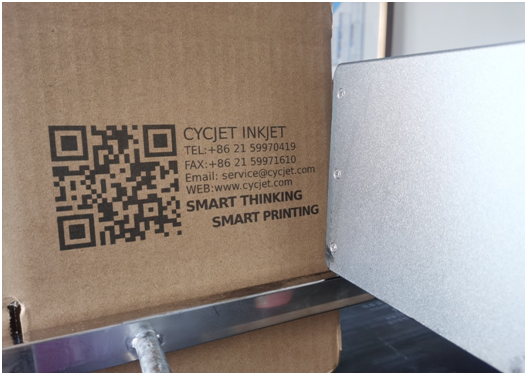 What are the difference points of CYCJET C700 Industrial Inkjet Printer?
C700 combines CYCJET's continuous ink supply technology. Nowadays, what manufacturers need is such a connected automation system that allows them to remotely monitor and analyze anytime, anywhere.
This product combines the advantages of ink drop size, coding resolution, and ink developed by CYCJET. It uses less ink to improve coding quality and can directly print stable quality and high-contrast logos on the box. By using the intuitive touch screen user interface familiar to CYCJET customers, you can also quickly adjust settings or redesign the coding layout.
This printer offers a wide range of connection options, such as RS232, to achieve easy integration with factory equipment. With the help of the CYCJET intelligent platform, you can monitor the performance and usage of the printer around the clock. All these features will help you increase the overall equipment efficiency (OEE) and maximize profitability.
Why choose C700 inkjet printing machine?
C700 is a "piezo inkjet" printer (PIJ). This technology combines the advantages of large-area printing and high-resolution inkjet coding. It can print graphics, text and GS1-128 compliant barcodes without the need to stick labels on the boxes.
Compared with label technology, the use of PIJ inkjet printer can reduce the overall overall cost and reduce waste. This will help improve overall operational efficiency and help manufacturers achieve sustainable development goals. Coupled with CYCJET's self-developed non-hazardous vegetable oil-based ink, manufacturers can not only obtain high-quality labels, but also greatly reduce the negative impact on the environment.

What are the advantages of C700 large format inkjet printer?
For manufacturers, printing codes directly on the boxes is a smart way to reduce complexity, cost and waste, but there has been a lack of reliable solutions in the market for a long time. The launch of C700 is to fill this gap: as a reliable solution and free customers from worries, it meets the secondary packaging needs of today's manufacturers.
When designing and creating C700, we are not only committed to developing improvements that surpass our competitors, but we also strive to retain the features of our traditional products that have benefited many customers. The large-capacity ink tank can reduce the frequency of ink replenishment in high-speed production without stopping the machine. Multiple nozzles supplied by a single ink unit can provide large-format printing layouts, and a C700 controller can also achieve multi-sided coding of boxes.
By studying the needs of the industry and based on our successful products with outstanding performance, CYCJET has created this reliable, advanced and easy-to-use inkjet printer, which will surely be favored by consumers.

Why is C700 more than just a printer?
C700 complies with Industry 4.0 standards and is compatible with all our latest services, aiming to seamlessly integrate the product code identification process into the production line. These services allow you to manage operations more efficiently, and can be integrated with the CYCJET automation software into the customer's existing ERP system. At the same time, C700 will also be compatible with CYCJET's future coding automation solutions.
It can be directly connected to a barcode scanner, allowing manufacturers to verify the logo immediately after printing.
CYCJET is the brand name of Yuchang Industrial Company Limited. As a manufacturer, CYCJET have more than 15 years of experience for R& D different types of handheld inkjet printing solution, Laser printing solution, and portable marking solution, High Resolution Printing solution in Shanghai China.
Contact Person: David Guo
Telephone: +86-21-59970419 ext 8008
MOB:+86-139 1763 1707
Email: sales@cycjet.com